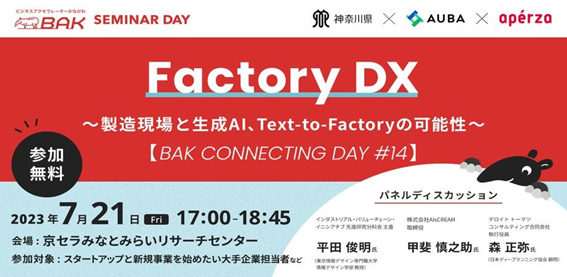 Kanagawa Prefecture promotes open ionvation between venture companies with innovative technologies and ideas and large companies through the "Business Accelerator (BAK)" initiative. TOMOMI RESEARCH will be speaking at the event "Factory DX: Manufacturing Site, Generative AI, and the Potential of Text-to-Factory - Will ChatGPT Control Factories in the Future?
We look forward to seeing you at the event.
Details and registration page
Schedule of the day
17:00 - Opening
17:05~ Panel Discussion
The manufacturing floor, generative AI, and the potential of Text-to-Factory: Will ChatGPT control factories in the future?
Speakers (Speakers may be added or changed without notice)
Shinnosuke Kai, Director, AIsCREAM Inc.
Mr. Shinpei Shimomiya, Executive Officer and CMO, Aperza Inc.
Mr. Masaya Mori, Executive Officer, Deloitte Tohmatsu Consulting G.K.
(Advisor, Japan Deep Running Association)
17:50~18:40 Introduction of business activities and co-creation cases by venture companies in Kanagawa Prefecture
Speakers:
iXis Corporation (Robotics, AI, XR, 3D data solutions for social and industrial infrastructure)
Efficient Corporation (system development integrated with IoT and AI)
MI-6 Corporation (data-driven materials development support)
Sotas Corporation (process management system specialized for the chemical industry) 5.
TOMOMI RESEARCH, INC. (Fusion of high-precision 3D images and AI anomaly detection to innovate metal product inspection)
18:40-18:45 Closing