A video presented at the Kanagawa Prefecture x AUBA x apérza TV Pitch Event "Factory DX - Manufacturing Sites and Generative AI, the Potential of Text-to-Factory" is now available on apérza TV! This video introduces in detail the state-of-the-art "fusion of high-precision 3D images and AI anomaly detection" technology that will revolutionize the inspection of metal products.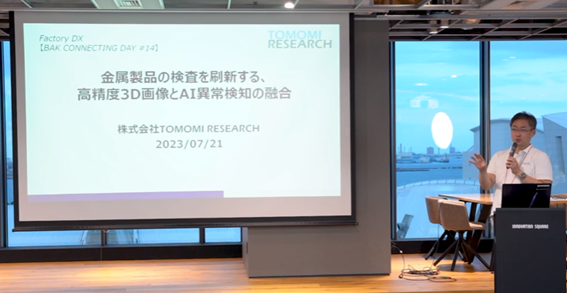 Please click this image to view the video.
Why this technology is revolutionary
For many years, inspecting metal products required a lot of time and effort. There was always the possibility of error in inspections by the human eye. However, with the AI technology we have developed, inspections can be performed more quickly and with greater precision, greatly improving the efficiency and quality of the manufacturing industry. Watch the video to experience a glimpse of how this technology can have an impact as a new standard in the manufacturing industry.
Check out the video!
The 8-minute video content is a condensed version of the features of our technology, specific usage scenarios, and expectations for the future. If you are interested, please click the upper image to view the video. We would be happy to hear your impressions and feedback after witnessing the possibilities of our technology.